Recycling Program
Welcome to Honea Path Recycling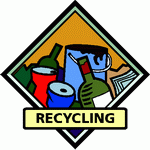 Honea Path community residents are strongly encouraged to recycle and transport the material to a local Recycle Center. Cardboard recycle containers are available and we will have recycling a containers area behind Town Hall until perhaps a Town Recycle Center can be made available. Recycling is a necessary part of our lives so even though curbside pickup will not be available lets all strive to be "recyclers" to preserve the future.
Again our appreciation for your supports.
Recycling The Easy Way:
The following guidelines are to be used in deciding what items are acceptable for recycling.
REMEMBER to remove lids/caps and rinse appropriate items. Cardboard boxes are to be flattened to conserve space.
Acceptable Items
Aluminum and steel cans
Cardboard, cereal boxes, paper towel rolls, etc.
Glass jars and bottles (clear, brown & green only)
Mixed Paper
Plastics - Label # 1 or 2
Non-Acceptable Items
No aluminum plates, foil or aerosol cans
No wax coated cardboard
No Styrofoam
No light bulbs, crystal, coffee mugs, window or mirror glass
No plastic bags
No cellophane
No plastic labeled number 3,4,5,6 or 7
No #2 oil containers
Other Recyclable Suggestions
Aluminum cans also be collected at the Fire Department Plastic Bags - return to merchants that accept them

Used oil - backyard mechanics may dispose of used oil at Town Shop located on Sanders Street

Ink Jet Printer Cartridges - get mailers from Town Hall

Cards - all types, front only, for the St. Jude's Ranch recycle cards project. Turn in at Town Hall.

Composting - information and compost bin purchase is available at Town Hall

Telephone Books - recycle at participating schools or agencies

Usable clothing and household items - donate to charitable organizations

Reduce junk mail

Buy products that are packaged in or made from recycled materials