Beyond creating the working side of any event, JoAnna's Events and Design also creates uniquely tailored designs for decorations that will enhance the event. Commercial design for indoor and outdoor activities as well as smaller intimate pieces for that extra sparkle. Year round decorations are available to suit any season…The Winter Holidays inspire our designers to create multitudes of unique decorations for the home and office. We offer on site design and installation services and can make magic occur in nearly every environment…with nearly any budget.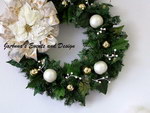 Custom holiday wreaths, swags and garland are available during the Christmas Season and are made in fresh or permanent arrangements. Wreaths are each hand made with an eye for detail. Wreaths can be created from fresh greenery and with accents to match your décor, or can be made from nature's bounty…using pinecone, nuts and other hardy materials for permanent pieces. We make wreaths in any size- 12" to 8' in diameter…look for details like our hand-made wreath bases from willow and wisteria vines for that special touch. Silks and other artificials are also used to create special Holiday Magic!
Glass Artisan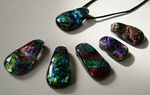 JoAnna creates beautiful uniquely fused glass jewelry. Each piece is hand cut and layered with shards of glass in a multitude of color and then fused together in a high temperature kiln…the result is one of a kind and captivating…it is wearable art. A kaleidoscope of colors liquefy in the heat to infuse the glass and create stunning effects. Necklaces, earrings, and bracelets coordinate and mix and match to become the focal point of your ensemble.
Contact:
JoAnna's Events and Design
9 North Main Street
Honea Path, SC 29654
864-369-5018
joannaseventsanddesign@yahoo.com