Honea Path
Downtown Sidewalk Sale
Saturday... June 3rd
---
Pony Rides . Bouncy Rides . Train Rides
Games . Food . Fun... and More
!


On Saturday, June 3rd from 8:00 a.m. until... there will be a town wide Yard Sale on North Main Street downtown.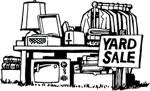 It's like a giant yard sale but includes the whole town in one location... Plus!

We're planning on having pony rides, bouncy rides, train rides, games, food, ice cream and more.

Yes.. there's going to be music in the air and fun everywhere. So come on down and bring the whole family.

Ok.. it's time for Spring cleaning and collecting up all those things you have laying around the house, stuffed into the attic, piled up in the basement that you're never going to use again and bring them Downtown to Honea Path's annual 'Sidewalk Sale' and turn them into 'Gold'

<![if !vml]><![endif]>The cost of setting up is FREE and there are no fees or permits needed for Yardsalers. So, if you've been thinking of having a yard sale, come on down and join us in the fun. Oh! and please bring your own tables.

Setup will be on the sidewalks of Downtown Main St and will be on a first come first serve basis. There will be personel on the street to help with questions. No vehicles allowed after 8am, please off-load your 'stuff' and move your vehicle as quickly as possible.

If you have any questions please feel free to call us at 369-1605 or Cell at 221-4540 for more info.